Sports Freedom WaterBall is a lot of fun! A unique feeling of "walking on water"! And that's not all: besides walking, you can jump, somersault, spin... whatever your imagination allows!
Can be used in swimming pools, rivers and beaches. Easy zip fastening with waterproof system: the person in the WaterBall does not get wet!
Fantastic ball that brings a whole new experience. You can walk on water, jump, somersault, spin... The possibilities are endless!

We manufacture three models of Sports Freedom WaterBall: WaterBall with inflating valve and double zipper, the Tizip zippered WaterBall and Tizip zippered WaterBall with security zipper.

The double zippered model of WaterBall is stronger and safer, but it takes a little longer to close the zipper. It is the only one that can be used in environments where sand can fall on the zipper.

The delay in closing of the double zippered model may be offset by the fact that the double zippered WaterBall can be inflated with the valve while closing the zipper, so when you finish closing, the WaterBall will be nearly full.

The high quality waterproof German zipper, the Tizip, is faster and more convenient, but it must be constantly lubricated. If used in an environment with sand, the sand may stick in its lubrication and it stops working quickly. Another important consideration is that the Tizip can open if an excessive force is applied.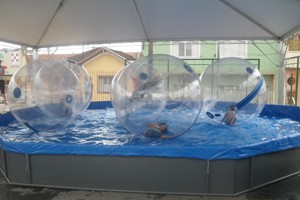 For customers who prefer to use the Tizip zipper, we developed a unique security zipper. The security zipper is a back up zipper, positioned under the Tizip, inside of the WaterBall, that helps to absorb stronger impacts.